Scarlett Johansson - nurse uniform
Apologies for the small size of these images, but they're just costume test shots for the forthcoming The Spirit movie. Regular readers will know that I can't resist seamed stockings, so these really caught my eye. The PVC trim on the bra is also a nice kinky touch.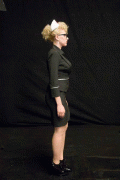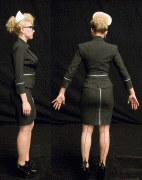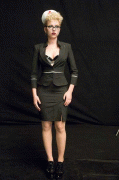 As for the movie adaptation itself, well, Frank Miller is directing and it looks like it will be employing the same hyper-stylised visuals as
Sin City
, his previous outing; so at the very least, it will be a feast for the senses.
If you liked these shots, be sure to check out some close-up portraits of Scarlett in the same bra on the forums
here
. Thanks to long-time contributor emilymortimer for the forum shots.
KG
Labels: bra, high heels, nurse, PVC, Scarlett Johansson, seams, stockings, uniform