Nikki Sanderson in corset and boots
Thanks to funkyphil for unearthing these great shots of Nikki Sanderson in an outfit I most approve of. A double-lace corset and some nice black boots...that's just class :)
For those of you who don't recognise Nikki, she's an actress in the UK soap Coronation Street.
All these images are around a megabyte in size by the way. Sorry about the late posting tonight - I have an unhealthy addiction to
LocoRoco
. Although this game has to be the best reason to own a
Sony PSP
at the moment, it just won't let me get anything else done!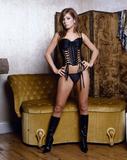 KG